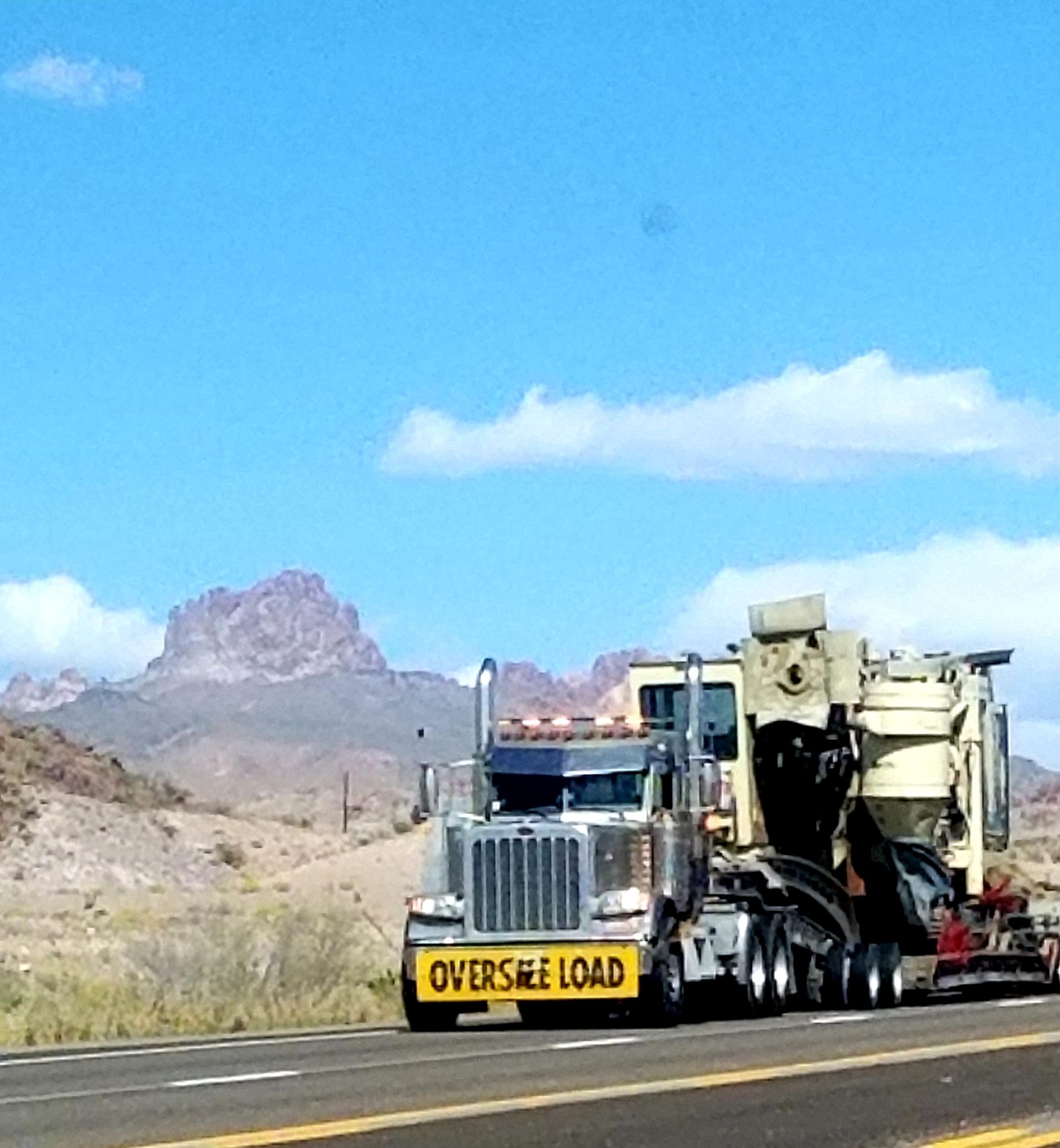 What's An Oversized Load & What's Needed To Transport Them?
When shipping your oversized freight, there are tons of challenges to overcome and an extreme amount of planning that goes into each oversized shipment. In this post we're going to explore some of the factors that will classify your freight as oversized. Also, we'll share some tips to get your oversized load to its destination safely, whilst abiding by the different State laws.
Let's get into it!
An oversized load is any type of freight/load that exceeds the maximum legal dimensions (width, height and length). Generally speaking, if your load is wider than 8ft 6inches (2.59M) and/or taller or longer than 13ft 6inches (4.11M) then you've got an oversized load on your hands.
However, across all 50 states these legal maximum dimensions can vary significantly. Because of this, all drivers MUST have the correct permits for each State he/she is passing through with oversized cargo.
The pricing of these permits differs from State to State, because they all use different methods to price the job, including;
dimensions of the freight
weight (in tons)
mileage
combination of all above
Therefore, being clued up on the different laws and permits is crucial. If these requirements are not followed, the driver could face a significant penalty charge.
Some things to consider for your oversized load…
A lot of care and attention needs to go into planning your cargo's route! This is because different road types, whether it be a highway or narrow road all have different regulations. They don't all accommodate certain sizes and weights of loads.
A highway will allow you to travel with oversized freight of up to 8ft 6 inches (2.59M) wide as long as your have the appropriate permits. Whereas, a narrower road might only allow trailers with a maximum freight of up to 8ft in width.
Hauling oversized loads can rack up in costs, and can become very pricey, very quickly. So we've learned from years of experience that sometimes, the most cost efficient way to get your freight to point B isn't actually taking the quickest and most direct route. It might work out best to take a slight detour when it means not having to buy certain permits.
After the route planning is done…Next up is figuring out which permits will be needed for that route. There's a ton of different permits available. So depending on your freight and the roads it's travelling, will depend on which permits apply to your shipment. Here are some permit types that might be needed for your trip….
State-Level Over Dimensional Permit
Any cargo that exceeds the dimension restrictions of your truck/trailer type is being transported on a State-owned road (e.g. highway or any road maintained by a national government), a permit is be required. This can be over dimensional in many ways, whether it's over in total length, weight, width or height. The permit needed is known as a State-Level over dimensional permit, and one of these will be required for each different State it travels through. For example, if you're travelling on State highways in 4 different States. You'll need 4 State-Level Over Dimensional permits!
County-Level Over Dimensional Permit
Like the name suggests, these are needed when your oversized freight is travelling on county owned roads (e.g. county owned highways or any other road maintained by the county highway department).  Just like the State-Level permits, the costs of these permits also vary from county to county depending on the cargo in questions dimensions.
City/Town Permit
The name is a bit of a give away again. This is a permit needed when travelling through a city or town with an oversized load. These will be provided by the specific towns/cities government. And once again, the price will differ across the States.
Permits can be issued by load, for a certain period of time or to a company. Most permits define a specific route you must take through towns, cities, county's and states, although few states leave this decision down to the driver or shipping partner.
There are a ton of different permits required as well as these, here's a taste of some others;
Overweight permits – The regulation of these permits is once again defined by the State you're travelling through. They use wheel axels and overall weight to determine if your load is overweight.
Superload permit – These loads take oversized to the next level. These are even BIGGER than the maximum for oversized and require extra planning and extra permits. Your shipping partner will look into extra details like; underpass and bridge crossings along the route to make sure, your cargo can actually make the journey safely.
In fact, there are so many different permits that we couldn't possibly cover them all in this post. If you need advice on an oversized shipment you can call us 24/7/365 and speak to a real human being on Phone: 888-SHIP-911 📞
We have or sort all of the permits you could possibly need for every shipment at PEI! 😁
One huge factor to consider is just how BIG the cargo really is. If it's exceeding 12-14ft in width, then the addition of an escort vehicle might be needed (again depending on State laws). An escort car is great to assist in alerting other road users to the extra large freight travelling on the road. They can also temporarily block traffic at intersections so that the truck can pass through safely.
When using an escort vehicle, most states only permit your travel at specific times of the day. Depending on the size of the load this can be restricted to daylight hours, as it's much more easily visible. Or depending on the state again, they might only permit moving through night time when the roads are much quieter.
Most states will, more than likely, only permit oversized loads to be moved during Monday-Friday. A lot of states do not permit the travel of an oversized load with an escort vehicle during weekends and holidays. This is because they anticipate much higher volume of traffic on these dates. It's so important to learn these restrictions if you're on a tight schedule, as it can really throw a wrench in the works, if not planned efficiently.
This takes route planning that next step up. Along the travel path, known hazards should be considered and potentially avoided where necessary. An example of a potential hazard could be; a low bridge. If the truck shipping your oversized load needs to drive under this bridge, it's going to need the right amount of height clearance to actually fit through. This is to avoid damage to your cargo, the truck and also to the infrastructure.
To draw attention to extra wide loads to other road users and pedestrians, there's necessary vehicle accessories that can be used like;
wide load signs
lights
flags
It is important for others to be made aware of your large load, so that they can appropriately position their vehicles on the road to accommodate extra room on the trucks side, or if needed, and safe to do so they could pull over to let the truck pass safely.
Lights should be added to the corners of the shipment. This is so others know where the cargo starts and ends, these are crucial at night time along with reflective signs.
With all of this in mind, shipping oversized goods can become a very complex challenge. With our expertize and 30+ years of knowledge. We're confident that we can handle all of your toughest consignments in the safest possible way 😃
Need help with your oversized shipments?
At PEI we're experts in dealing with specialized freight and can handle yours with any custom requirements.