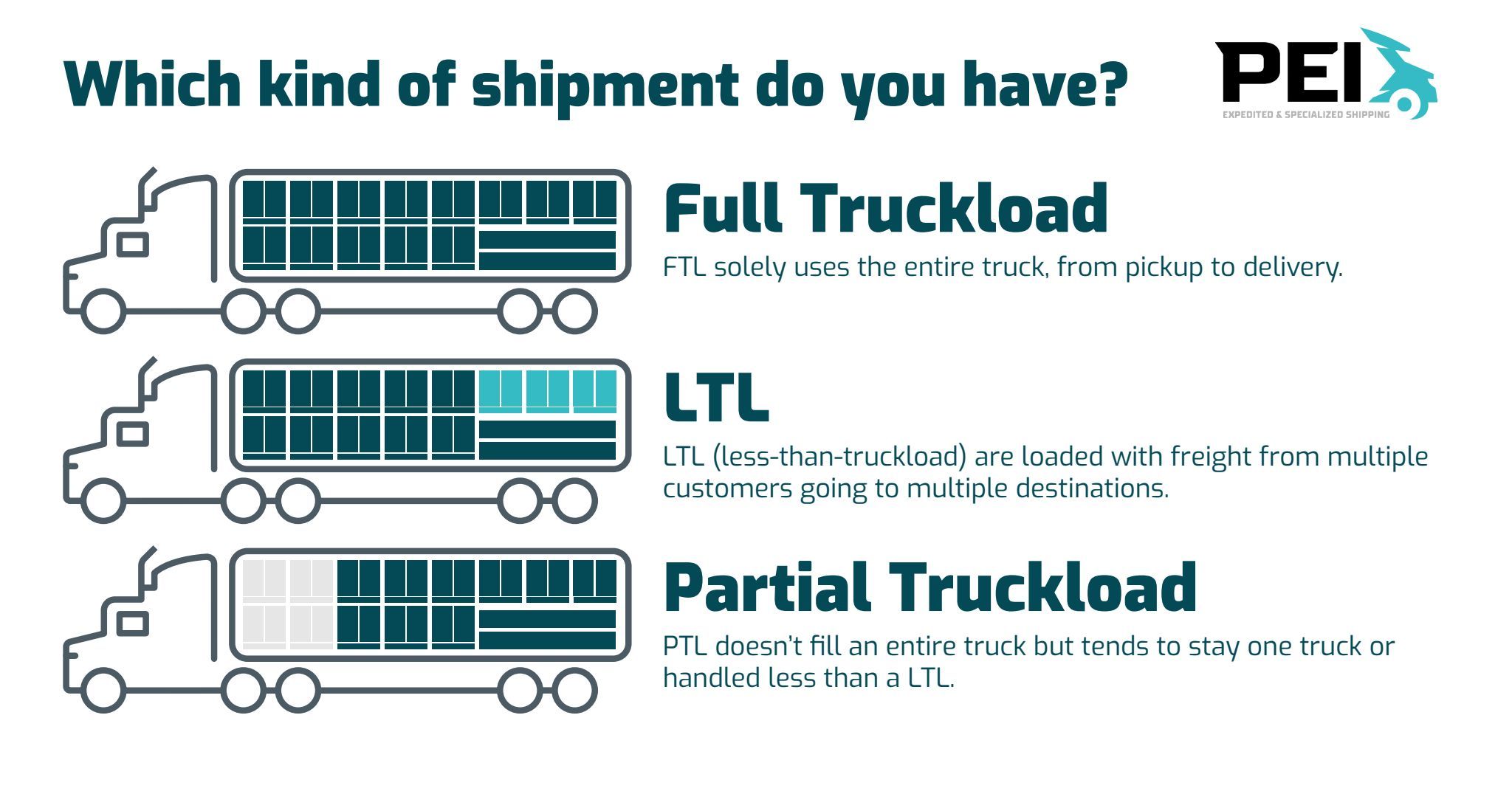 LTL, FTL, PTL or EUV – What Do They All Mean?
There are a bunch of abbreviations used in the logistics industry (maybe too many 😅), but here are just 4 of the more common terms used to describe different load types.
So, what do these 4 abbreviations mean? 🤔
LTL – Less Than Truckload
FTL – Full Truckload
PTL – Partial Truckload
EUV – Exclusive Use Vehicle
LTL, FTL, PTL and EUV are all types of solutions used to ship your freight from point A to point B. LTL and FTL are considered the most common methods used. However, with logistics being an ever growing industry, other shipping requirements from customers has forced providers to broaden their service offerings, resulting in the adding of PTL and EUV service options.
All of these 4 types of shipments are unique and excellent options in their own way, and each one has its' own pros and cons. Knowing which shipment type to use will allow you and us to make an informed decision to get you the most cost effective and timely delivery that suits you and your business 😊
Here we will break down what each abbreviation means and talk you through each of their differences and why you might choose one over the other ↴
LTL
LTL (less-than-truckload) is the cheapest option 💸  simply because you're not paying for sole use of an entire trailer. And it is a great option for smaller loads of freight (perhaps from a smaller business) that has regular shipments that are not big enough to fill a whole trailer.
Because of the size of the loads, an LTL shipper will fill their trucks with freight from multiple businesses that are all going to a similar destination. This means there will be more drop offs and touch-points (swapping vehicles) along the way.
Now, because there are more drop offs and touch-points there is also more risk of damage to any freight onboard 🚨. This is because your freight will need to be loaded/unloaded multiple times.
Another drawback of an LTL shipment that comes as a result of the extra stops, is the added time on each delivery. So, always consider time frames when choosing a shipping method. ⏰
FTL
FTL (full truckload) is the one of the quickest and most efficient means of transportation for your shipment 💨. However, be aware, it's also one of the more expensive options too 💰. This is simply because it's only your load on the truck, and no-one else's.  Because of this, there are no extra stops en route to its destination, resulting in a much quicker turnaround time when compared with other shipping methods!
Because there's nobody else's freight on board, there's no unnecessary handling of your cargo once it's loaded. This means that your freight is safer on an FTL shipment. Because, where extra handling is needed on LTL shipments, cargo is loaded on and off more frequently. This allows the delivery expert to access other peoples freight at the different stops and touch-points. This can result in more chance of accidental damage (because we are all human at the end of the day 🫣)
Sometimes, FTL is the chosen method, even when the truck is not full of your freight… I know, it sounds like we are totally contradicting ourselves 😂. However, it makes perfect sense, if you don't mind taking on the full charge of a partially loaded truck!
If you have a large piece, or an amount of freight that requires a truck but still isn't quite full….BUT it's on an extremely tight time deadline, or the expense of having this freight missing from its' destination is extremely expensive, then FTL could be the best option for you. It allows you to skip all of the extra added time that comes with the other shipping options.
PTL
PTL's (partial truckload) are like a hybrid between LTLs and FTLs. They don't have quite enough volume to fill an entire truck like an FTL, but have more than what would be considered an LTL.
This option is cost effective because the cost is still being shared between other shippers using the rest of the trailer space, so again you're not having to pay out the full price of an entire truck. It means it's not you, yourself paying for your delivery drivers time and gas 💰.
We suppose, the 2 main differences between LTL and PTL is that PTL shipments stay on one truck. Meaning less handling, and therefore less risk of damage to the freight and also with a quicker transit time due to the lack of connections.
EUV
EUV's (exclusive-use-vehicles) are up there with the more expensive options of shipping 💰.
This is because like the name states…it is purely dedicated to your shipment (exclusive use). No matter how big or small!
When you opt for EUV, you can bet your freight will get from point A to point B with the fastest turn around time of any of the 4 options and with minimal risk of damage just like FTL's.
Whilst shipping providers try their best to consolidate freight to reduce the costs for you, the customer, and also reduce their carbon footprint, sometimes exclusive use of a vehicle is just necessary. Whether that's because of the sentimental or monetary value of the freight, a tight deadline or that the freight could be at potential risk of cross contamination if shipped with other cargo. You know your shipment will be protected to its fullest with an EUV.
How We Can Help…
If you're unsure of which shipping option you need for your freight, we can help you to make an informed decision, that will suit you and your business' needs. You can call us 24/7/365 and talk with a real human anytime!
Solving Your Challenges Is A Cinch.

1. Contact us
We'll discuss your shipping needs and determine the best course of action.
2. Get a custom plan
Together, we create a plan that gets your LTL, FTL, PTL or EUV shipments where they need to go. Whilst also meeting the strictest time constraints.

3. Ship with confidence
Know for sure that your truckloads will arrive at the right time, the right destination, and to the right people.
Need help with your LTL, FTL, PTL or EUV shipments?
At PEI we're experts in dealing with specialized freight and can handle yours with any custom requirements.